In the heart of the Marennes-Oléron Basin
Situated between the Charente and Gironde estuaries, the Marennes-Oléron basin covers more than 3,000ha of maturation ponds and 6,000ha of oyster farms. It's thanks to its geographic situation - the effect of different currents and the maturation ponds (former salt marshes) where the oysters are aged - that the widely appreciated unique taste and green colour can be obtained.
Today, the industry employs around 700 oyster farmers, "affineurs" and dispatchers and accounts for 50% of oyster production in France. Each year, Marennes-Oléron sells between 45,000 and 60,000 tonnes of oysters; the total national production is 110,000 tonnes. The Marennes-Oléron basin is thus by far the most important production area of oysters in France.
The benchmark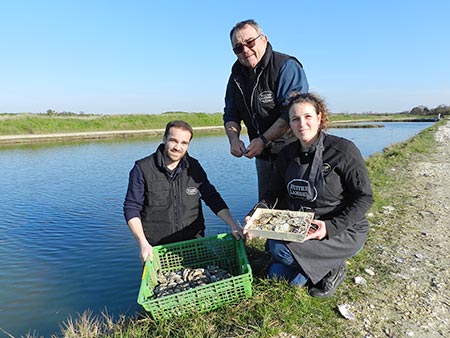 Roland Lambert SARL is a family business with the third generation now at the helm. The company sells around 1000 tonnes of oysters every year via a network of distributors in France and overseas...
A matter of taste...
The oyster's story dates back to Roman times - they even used the shells as ballot papers! Louis XIV, amongst others, loved them and they were part of every great banquet table.
In 1922, the native Marennes-Oléron oysters ("La Plate") suffered from a disease that all but wiped them out; they were succeeded by the Portuguese oyster which very quickly acclimatised itself to the Marennes-Oléron basin, only to be destroyed in turn by disease in 1967.
Today, a new variety of oyster is produced in Marennes-Oléron - the Japanese ("Crassostrea Gigas").